Kelowna's Best Bachelorette Party
If you want to throw your bride a unique bachelorette she'll never forget then get ready to book with Smile Cycle Tours. Your bachelorette group can reserve an entire bike to tour all of the sites (and tastes) of downtown Kelowna. Contact us if you have questions about your specific group, as we love to help plan and make the bride's day special!
FUN, MEMORABLE, AND PERFECT FOR GROUPS
Take the stress out of bachelorette party planning.
Hold your spot now with a $200 refundable deposit. FREE cancellation and FREE changes up to 72 hours before the start of your tour!
BOOK NOW
As if you needed any more convincing, here are 7 reasons why Smile Cycle Tours is the best way to celebrate a bachelorette in Kelowna!
1. It's Jilly Approved
Jillian Harris – who we all know and love as the host of Love It Or List It Vancouver – is also a Kelowna local with all the details on things home, beauty, love, food, and wedding-related. We were lucky to welcome Jillian on one of our Smile Cycle Tours, and she had a blast!
She even listed it as one of her favourite things to do in her list of My Favourite Spots to Eat, Sleep, & Drink in the Okanagan!
If you are a fan of the local and fun things that Jillian Harris gets up to in the Okanagan and in Kelowna. Then you should have a look at what she had to say about her brewery tour with us!
"If you live in the Okanagan or if you're coming here for a visit this summer you HAVE to round up your friends and family and book a day for Smile Cycle Tours!!! Basically, a 15 man bike that takes you on a pub crawl downtown Kelowna!! We did this a couple of weekends ago and it was a total BLAST!!!! 🚲🍺🍷"

-Jillian Harris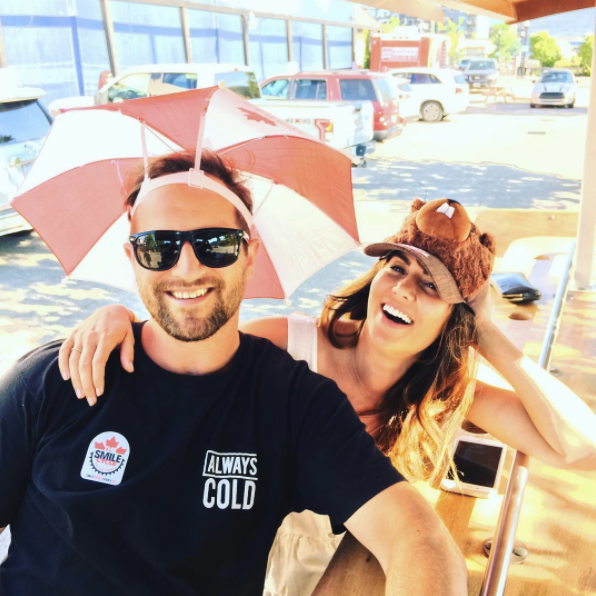 You can have a day just like she did except with your friends, loved ones, bride-to-be or strangers.
2. It's Easy to Plan
Instead of calling and booking your party with several different stops for food, drinks, and activities, book your Smile Cycle Tour and forget about the rest. You don't need a complex itinerary timed down to the minute. All you have to worry about is meeting at the pickup location ahead of time, and we'll handle the rest. It's a fun and relaxing day for everyone.
3. It's Private
When you're on the bike you're in your own little world where it's all about you and your gal pals. Our Dutch-made community bike features table-like seating so you face your friends with plenty of room for bags and purses. It's like being in a limo – but way more cool and fun. Enjoy being outdoors in the Kelowna scenes and sunshine!
4. It's a Workout
You will be burning off the drinks as you go, as there is no motor to our party bike! The bike is 100% man-powered (or should we say girl-powered!) so you can get your workout in between stops. The Smile Cycle Tours is an endorphin-filled experience and one you will certainly feel good about. It's an active, safe, and exciting way to celebrate with your friends. Don't want the bride to break a sweat? There are 5 non-pedaling seats on the bike so you and her can kick back and relax, too.
5. It's Affordable
Weddings are expensive and the bachelorette party can easily go over budget. In Kelowna, the options for affordable bachelorette party ideas are limited. But for just $600 you can book the whole bike for a private tour. Splitting the cost between all of your girlfriends makes this is an extremely affordable option! Currently, we can accommodate up to 15 riders on our Private Tours. If your group is larger, send us a message and we'll discuss booking multiple bikes for you.
Alternatively, the public bike tour (Kelowna Beer Tour) with other fun-seekers costs $38 per person, and there's a great chance you could meet some new friends along the way!
6. It's Customizable
Every bride-to-be has her own unique style. If you want to create the perfect day for her that's all her own, Smile Cycle Tours can help. You choose the music, so you can play her song (you know the one) as many times as you want. Cheesy high school throwbacks? Today's top hits? The songs that remind you of all your good times together? You got it. Bring your epic mix and sing your hearts out.
There's no dress code on the bike either. We HIGHLY encourage cycling in costume to show off your fun side. Matching t-shirts, themed costumes, or just getting dolled up for a fun day out makes the tour that much more memorable.
You can also decorate the bike itself to match your bachelorette theme. Just show up for your tour 15 minutes early with your decorations! As we tour through high-traffic areas, all decorations must be family-appropriate.

Reserve Your Private Tour
We all know organizing group trips is hard, so if you're looking to have one less thing to worry about.
Now with a 50% deposit. We even offer FREE cancellation up to 72 hours before the start of your tour!
BOOK NOW
7. It's SO FUN
You don't have to take our word for it; see what other bachelorettes have to say about their tour experiences:
If I could give this tour a 10 star rating I would!!! We were in Kelowna all weekend for my sister's Bachelorette party and this was HANDS DOWN our favourite activity!!! Tristan was our guide and made this such a fun and memorable experience for all of us ladies!!! We got to play our own tunes and had the best service at each brewery we went to. I couldn't say more great things about Tristan and our afternoon with smile cycle tours 🙂 THANKS SOOOOO MUCH for the laughs and fun afternoon!

– shayyfast on TripAdvisor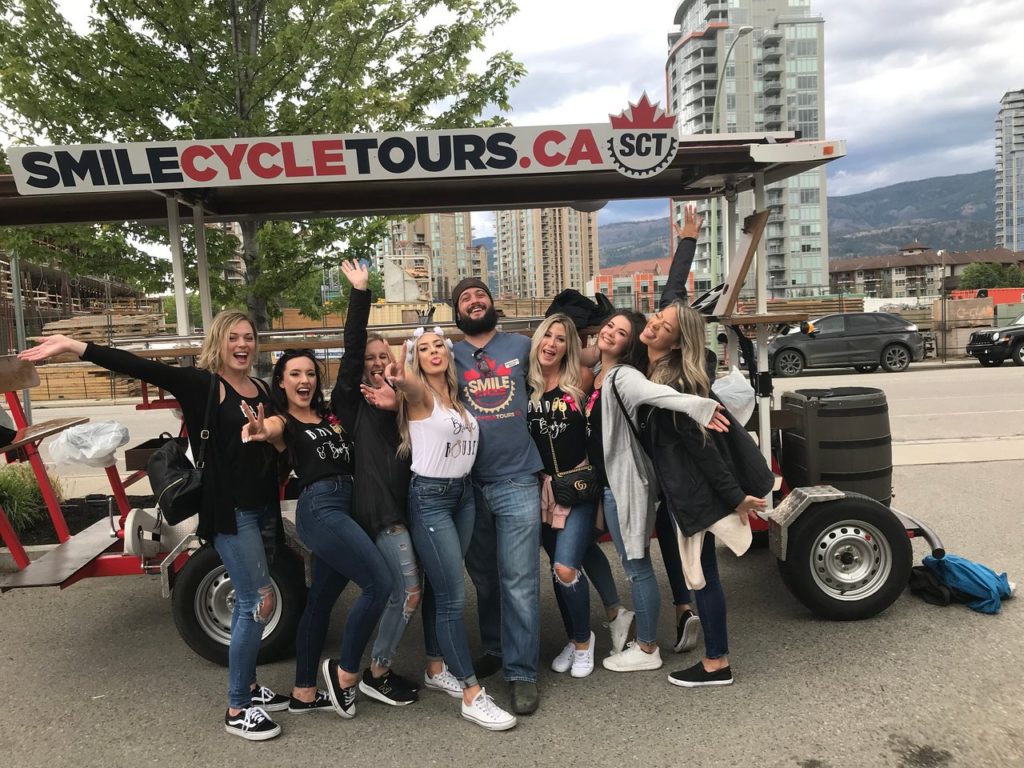 Had a great time! We did smile cycle tour for a bachelorette party and the bride absolutely loved it! She kept saying that it was the highlight of her bachelorette party. Our tour guide Tristan was amazing! He was so full of engery and jokes that it just made everyone's time super enjoyable and he took so many pics that we named him our Instagram husband. I highly recommend smile cycle and Tristan for a tour guide.

milagro b on TripAdvisor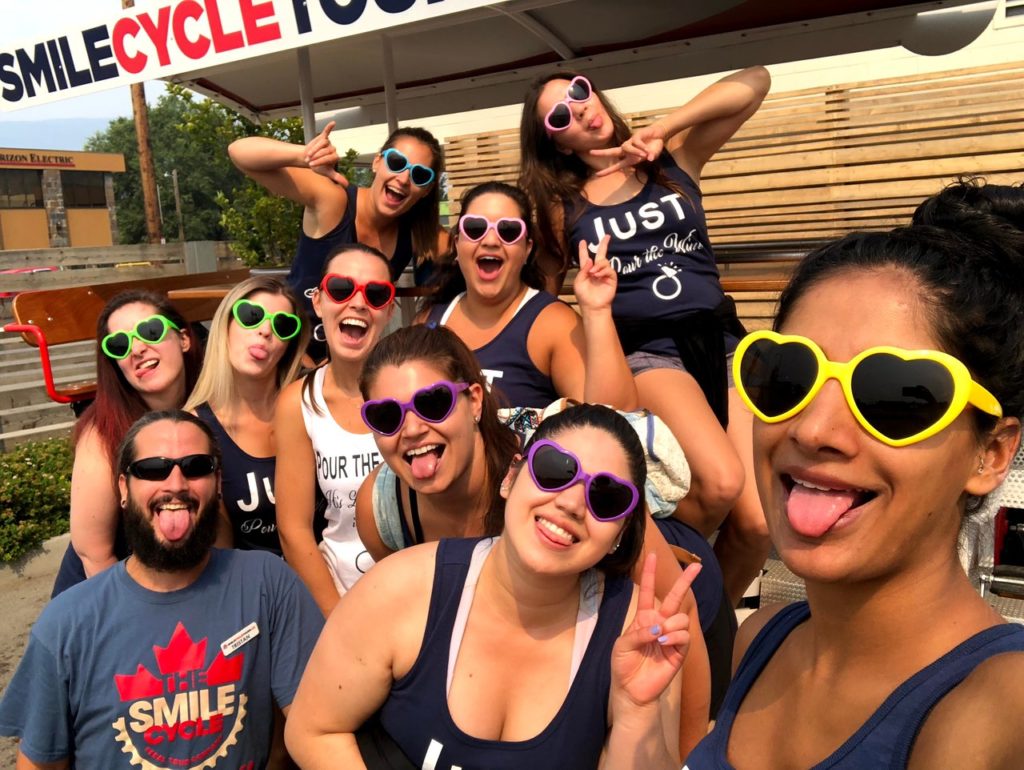 Such a great way to see the city of Kelowna! We did a private tour while in Kelowna on a bachelorette party and it was such a fun time. We selected the Craft Beer Tour and there was something for everyone to enjoy. Stewart was an awesome guide and put up with all our bachelorette craziness!

"GO! STU ON TWO!"

– Jes R on TripAdvisor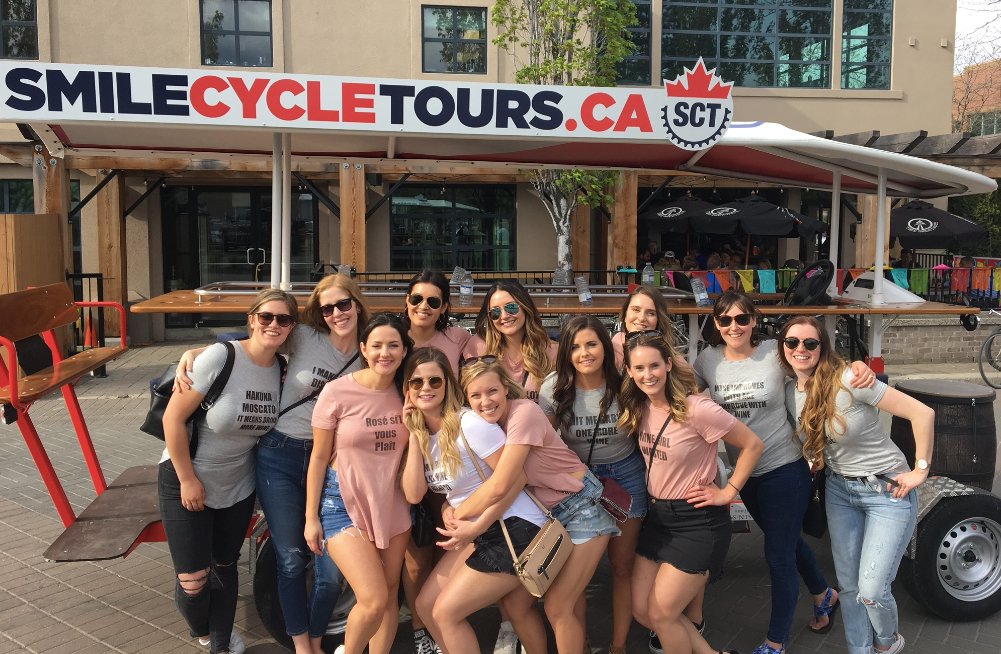 Ready to join us? Spots fill up quickly!